Olov plays 4 different types of nyckelharpa in some of our concerts. Here is a photo, audio clip and description of each instrument.
This is the 3 rowed chromatic nyckelharpa made by Esbjörn Hogmark 1982. This is the most common type or standard type of nyckelharpa, made popular by Eric Sahlstrom in the 1940's.
There are 3 strings that are bowed and 12 strings are sympathetic.
Description - transparent sound, rich in the bottom and lots of sparkly overtones.
audio clip featuring the 3 rowed chromatic nyckelharpa - Höök trad. arr.CM/OJ - from cd FOOGY
Kontrabass Harpa made by Hans Gille 1989.
A drone instrument , fully chromatic, was the nyckelharpa that was played mid 1600 to mid 1800.
Sound - more focussed sound than chromatic nyckelharpa with a rough edge.
audio clip featuring the Kontrabass harpa - 1st Class to Glasgow comp. Olov Johansson arr.CM/OJ - from cd FOOGY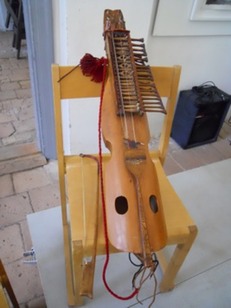 Silver-bass nyckelharpa
We first played this combination at our Lövstabruk concert in July 2011. We don't have a recording of this nyckelharpa with Scottish harp yet.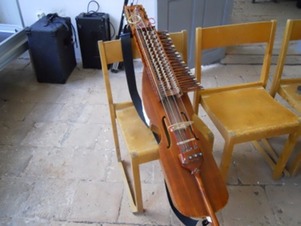 Octave Nyckelharpa.
Just like the normal 3 row chromatic nyckelharpa only bigger and an octave lower. Made by Olle Plahn.
Sounds like a cello nyckelharpa.
audio clip featuring the Octave nyckelharpa - Harpers' Dismissal trad. arr.CM/OJ - from cd FOOGY