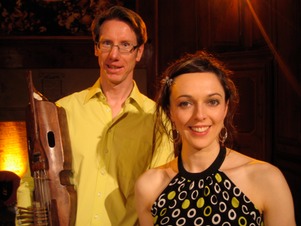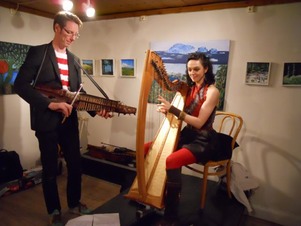 Olov Johansson & Catriona McKay 
Scottish Harp meets Swedish Nyckelharpa
Two of northern Europe's leading harpists – one playing the Scottish Harp and one the Swedish Nyckelharpa.
Catriona and Olov have been occasionally playing Scottish harp and nyckelharpa since having a few tunes back stage before a gig by Fiddlers' Bid and Väsen at 'Nybrokajen 11, in Stockholm in 2002. Catriona had learnt the tune 'Spelmansglädje' from a recording by the composer of this wonderful tune 'Eric Sahlström' on the cd 'Fiddlers from Five Provinces' not realising the wonderful musical connection she would make when playing it with Olov Johansson that afternoon after the 2 bands rehearsed an encore together for the concert.
Since that meeting, they were looking for opportunities to explore further the combination of Scottish harp and Nyckelharpa. In January 2007 they had the opportunity to play a duo set at the "Fiddlers' Bid International" concert at Celtic Connections 2006. During the festival they made time to record 2 sets for Olov's latest solo album 'I Lust Och Glöd'. (www.drone.se)
In 2007 they performed together at Olov's album launch in Uppsala Concert Hall and at Folkmusikens Hus, Rättvik. In January 2008, Olov was a musician in Catriona's new piece FLOE - a Celtic Connections 2008 commission. Catriona wrote 'Olov's Polska' as part of FLOE especially for Olov. They had 4 sets filmed by Scottish Television up in Dingwall. In the summer 2008 they toured in Sweden.
In April 2009 they released their first CD called Foogy at the International Harp Festival in Edinburgh. Since then they have played tours and festivals in Sweden, Scotland, USA and in 2013 made their 2nd cd, The Auld Harp.
"…utterly reshapes our perception of the instruments' potential…A radiant excursion into uncharted terrain." Irish Times ****
"a beguiling combination of timbres" The Scotsman ****
"Harps create sounds that wind around each other, sometimes gently, sometimes ferocious…harp plus harp creates awesome new folk." LiRA Music Magazine
The repertoire consists of both traditional as well as new composed music from Scotland and Sweden, everything performed in this new unique harp-shape by these awarded harpers.
Catriona was appointed "Instrumentalist of the Year" at "Scots Trad Music Awards 2007 and 2014.
Olov became "World champion in Nyckelharpa"  in Österbybruk 1990.