LAEBRACK REVIEWS (2005)
Harper Catriona McKay and fiddlers Chris Stout have been working together for more than 10 years, during which they have developed individually and as a duo to the extent that, with McKay's nimble elegance and Stout's stirring tone and masterful touch, they are operating at a rarefied level of expertise.
These nine tracks are all of high quality but, at seven minutes-plus each, the traditional Shetland selection, Smugglers, and the Romany-influenced Turns show just how naturally the pair sustain the invention and sense of enquiry that can completely reinvigorate old tunes and personalise newer ones, creating in the former case s mini-epic that blends craggy, elemental intensity with graceful eloquence while never losing sight of the music's origins.
The Glasgow Herald, Nov. 2005, Rob Adams
When Shetland reels pony up alongside Romany-tinged jazz confections, you're either tiptoeing in schizoid terrain or exposing your eardrums to musicians conversant with more than the dialect of home. McKay and Stout do for fiddle and harp what Martin Hayes and Dennis Cahill have done for fiddle and guitar: stripping bare old tunes and not so much composing new ones as conjuring them from a divine concoction of tradition and bold imagination. Hangman's Reel epitomises the pair's downright boldness with its sensual, throaty fiddle lines redefining the shape of the tune, reminiscent of what De Danann did with Handel's music two decades ago. McKay's harp is deliciously angular and haughty, particularly on her original Spöndrift, as fluidly dispersed as the sea spray from which it borrows its title. Unimpeachable.
The Irish Times, Nov. 2005, Siobhán Long
Fiddler's Bid harp/keyboard player and bowman take their long-term instrumental partnership to new levels in this celebration of music from the Northern Isles. But this is no suspended-in-aspic example of old-style Shetland music. These young musicians are rooted in their traditions, classically trained - and, more importantly, musically adventurous and inventive. New readings of ancient wedding marches, original compositions brimming with contemporary influence, reels spun with muscular virtuosity, and slow airs that bring salt to the eyes. A lesson in harp and fiddle playing, and a delight to the ear.

Scotsman on Sunday, Oct. 2005, Norman Chalmers
The Glasgow Herald, Sept. 2006, Rob Adams
Catriona McKay and Chris Stout, Edinburgh Folk Club

Catriona McKay is a harper of the 21st century. Introducing a pair of tunes given to her by Brian Finnegan, the demon flautist from Flook, McKay professed bewilderment at receiving said tunes by way of a padded envelope and something called a cassette tape. But, worse, when she played the tape, the tunes' names didn't appear, as they do on an iPod. Thus the ensuing medley had no title, although, like everything the waggish McKay and her long-term musical partner, fiddler Chris Stout, play, it showed a depth of understanding and a concern to convey shape and meaning rather than mere notes. McKay and Stout have classical backgrounds as well as a deep involvement in traditional styles, and this blend, allied to ready innovation, produces consistently invigorating high-end music.

Stout's touch, both on a Hangman's Reel that suggested an indecent haste to see justice enacted and on a new slow air of his own, elicits real drama and myriad finer points from a tune. Just playing solo, as on the raking Da Shaalds o Foula, from his beloved Shetland tradition, he projects energy enough for a dance band, too.

Although McKay often plays the accompaniment, creeping in by stealth behind Stout's emotive Da Day Dawn for example, her contribution is never subservient.
She has a tremendously keen harmonic sense and there's a power and physicality alongside her inventiveness. Indeed, one particular pattern of intricate fingering and emphatically rhythmical dampening of the strings might have qualified as aerobics. On the opening night of Edinburgh Folk Club's new season, this was one mighty gauntlet to throw down to the attractions to follow.
Laebrack is the work of two Shetlanders, Chris Stout and harpist Catriona McKay. Both are involved in an impressively eclectic range of solo and group efforts, including Fiddlers' Bid, but this is their first album together as a duo. And what an album! Always having been a bit lukewarm on the harp, Laebrack was a revelation to me! They spin out "hangman's Reel" for almost five minutes, working up from a solo fiddle line to a gloriously fiery duo finish. They flirt with modernity and improvisation on Graeme Stephen's "Turns" (both players are no stranger to electroacoustic and other experimental music.) And there's no escaping traditional Shetland tunes, which crop up in several sets. Throughout, their sound is gutsy and wonderfully full, despite they're being only the two players. Inspired!

www.penguinegs.ab.ca (Edmonton, Canada), Nov. 2005, Roddy Campbell
Shetland fiddle band Fiddlers' Bid have established themselves as one of Scotland's top instrumental groups with their most recent CD, Naked & Bare, getting very positive reviews. This duo recording from two members of the group takes a simpler approach to the music. Fiddle player Chris Stout and harper Catriona McKay have stripped the music back to its essentials and created a marvellously inventive duo recording. The music is from the Shetlands, mainland Scotland, Ireland and Quebec as well as a couple of their own. It is a recording of splendid tunes played with passion and a wonderful sense of dynamics.
macdonaldstrings.com, March 2006, , Graham MacDonald
Harpist McKay and fiddler Stout have been promising this delightful duo album for some time now, and it is well worth the wait. They have evolved a refined approach to combining their instruments and updating the folk tradition on which they draw. It features Shetland repertoire old and new, jazz-inflected tunes by Fraser Fifield and Graeme Stephen, and an elegiac Irish tune by Michael Rooney.
The Scotsman, Oct. 2005

Harpist Catriona McKay and fiddler Chris Stout from Fiddlers' Bid unite without the rest of the band for Laebrack, a moving and exhilarating collection of traditional and modern compositions, the former from Shetland, and bearing names from the Northern Isles – the title track refers to the surge of the surf, for instance.
The duo have performed together for over 10 years, and have evolved between them a rich and elegant style that does full justice to the traditions of Scotland's most peripheral and most Norse communities.
Tracks celebrate the surf and other natural features, as well as the islands' rich culture – the "Bride's March" from Unst, for example, and "Shaalds O' Foula". Adventures even farther afield in geography are remembered in "End of the Line", (when Catriona fell asleep on a train, says the sleeve; and farther afield musically in the jazz track "turns". An exciting and beautifully crafted collection.

The Scots Magazine May 2006, Alasdair MacLean

FIRST HEARING: One for music lovers (and fans, of course). Two fast rising stars within traditional Scottish music on harp and violin with a touch of viola here and there. It's a musical 'tour de force' that demands listening. The playing is quite excellent."

www.allcelticmusic.com Oct. 2005

"Laebrack features Catriona on the Scottish harp and Chris on fiddle and viola, creating an exciting blend of traditional Shetland tunes and modern compositions, some by Catriona and Chris, further emphasizing the all-round talents of this remarkable duo. The album was recorded at Castle Sound Studios, Pencaitland, East Lothian, by Stuart Hamilton, and was produced by Catriona and Chris. The album is bold and at the cutting-edge of traditional music in the 21st Century."
www.musicinscotland.com Oct. 2005

Both are members of Fiddlers' Bid but the duo partnership has been going for nine years and that in itself brings a level of intuitive and sympathetic playing that sparkles new life into the mainly traditional material. Musicians enjoying their music and sharing that with us, you can't ask for more.

Graham Radley, November 2005
Harp player Catriona McKay and fiddler Chris Stout have escaped from the Shetland band Fiddlers' Bid to make an album together: harp and fiddle does seem to be a perfect combination of instruments. They start off quite laid back but by the second track, 'Hangman's Reel", they've whipped up an incredible virtuosic frenzy. Chris sounds like he's playing the fiddle with his fingernails at one point.
About half the tracks hare are traditional Shetland tunes, and a few of the rest are composed by the performers. Another of the tracks is a jazz tune by Graeme Stephen which Chris learnt while playing in his sextet, and indeed Chris' playing in some of the other tracks is very jazz inspired with improvisation and varying tone colours. But he proves he can play traditionally too in that special Shetland way, particularly on the final track: a beautiful slow air by Michael Rooney 'Eileen's Lament'.
Fiddle On, Spring 2006, Stephen Wassell

With the fabulous Shetlands band Fiddlers' Bid you get two bands in one, as fiddler Chris Stout tours as a duo with harper Catriona McKay. Whereas the ensemble is known for its heart-stopping energy, the duo takes an unhurried approach. Although Stout and McKay have the good sense to alternate slow and up-tempo selections, even the latter tend towards quiet elegance. This allows them to rework several familiar tunes in new ways. The famed Shetlands "Bride's March," for instance is played even more slowly than is customary, and what they do with "hangman's Reel" scarcely resembles what one usually hears. The latter has Scandinavian reverberations, several dramatic harp cascades and passages in which McKay's harp keeps the melody intact whilst Stout trills and thrills. Still other unorthodox pieces include a cover of jazz guitarist Graeme Stephen's "Turns" which McKay and Stout flavour with gypsy and tango seasoning; and "Da Shaalds o Foula," whose old-style tuning evoke hardanger fiddle. Many of the album's selections, including the stately "Eileen's Lament," have a classical feel about them in that they are executed with great precision and delicacy, but they never contain stodgy, academic undertones. Laebrack is a Shetlands term for the surf, and this namesake album washes over the listeners like a warm wave on a calm day.

Sing Out! Spring 2006, R. Weir

After the undisputed success of Chris Stout's debut solo album First o' the Darkenin, this dynamic duo return to the fore of Scottish traditional music with a long-awaited new album. This varied and vibrant collection of music is the culmination of years of work to create a new sound, establishing the strength and passion in their playing. Stout and McKay have over a decade of musical partnership together, playing as part of various bands including Fiddlers' Bid.
These are traditional musicians of the highest calibre; Stout plays with the precision of the classical discipline but with the creativity and passion of a jazz violinist. His individual style is complemented beautifully by McKay's exceptionally lyrical harp playing. Laebrack is an old Shetland word which refers to the ever-unpredictable movement of the sea. Much of the material on the album is derived from the Shetland Isles with some self-penned numbers; the title track in particular, written by both artists, builds on the Shetland tradition incorporating aspects of the jazz genre.
Stunningly gentle and wistful, the album rocks from slow to fast, from virtuosic to spell-bindingly minimal, culminating at its most tender with "Eileen's Lament" written by Irish multi-instrumentalist Michael Rooney. The traditional Shetland material in the album continually permeates the boundaries of a traditional music, appealing not only to a folk audience but also to jazz and classical listeners. Laebrack grows on you with every playing, ever attractive and intriguing with its consistent and original style.

English Folk Dance and Song Society, Spring 2006, Laura Grime

"…one of the key cds of the new century – Laebrack…vitality, spontaneous invention and deeply ingrained feeling for the tradition."
Music Scotland News, Issue 33, Bob Penn

It was born in the evocative  Shetland Islands, the new project of harper Catriona McKay (Jakez Françios Celtic Harp international award's winner 2004) and fiddler Chris Stout (also viola), both members of well-known Fiddlers' Bid Scottish band.
After more than ten years spent on stage side by side, they took the time to work together as a duo: the result of this artistic union is Laebrack (Shetland term for waves surfing against the shore) with nine distilled drops of artistic purity.
The songs are from Shetland's tradition (Smuggler's, Bride's March) and one's own material
Classic – The Sound of Sea Waves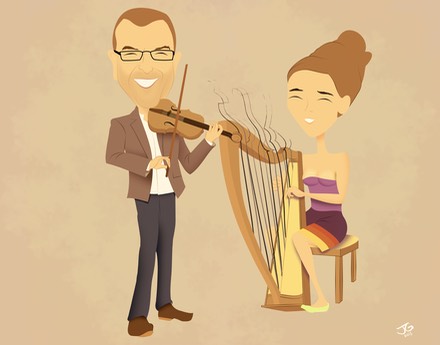 (translation from Italian)