"...Scottish harper Catriona McKay's latest collection STARFISH is a thing of extraordinary beauty." The Irish Times
Music written and arranged by Catriona McKay for Scottish Harp with fiddle, guitar, bass and strings
" a beautiful and stunning album of adventurous, mysterious and alluring contemporary Scottish music" www.wwpv.org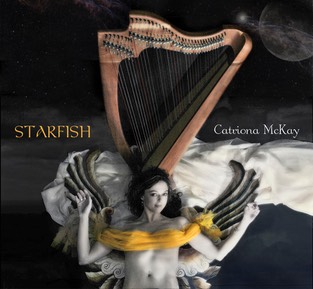 " Layered delights reveal themselves with each successive exposure: a sure recipe for longevity." The Irish Times
Catriona McKay - harp/Starfish McKay harp
GUEST MUSICIANS
Donald Grant - fiddle
Fionan De Barra - guitar
Matt Baker - bass
Seamus Egan – nylon guitar on track 9
Red Skies - Strings (violin - Magnus Johnston, Gerald Gregory, Frances Grime, Catrin Morgan viola - Felix Tanner, Nancy Johnson cello - Eilidh Martin, Lucy Payne)
Alistair MacDonald - Electroacoustics
Produced by Catriona McKay
Recorded by Stuart Hamilton at Castlesound Studio
Mastered by John Anthony at Maja Audio Group
Mixed by Catriona McKay and Alistair MacDonald
Front cover photo by Louis DeCarlo
Design & image treatments by Robert Hakalski | Visual Machinery
String arrangements by Catriona McKay
Red Skies directed by Donald Grant
Harps made by Starfish Designs
Catriona received assistance from the Scottish Arts Council Lottery Funding to write and record music for the new Starfish McKay harp. The music explores the contemporary voice of the traditional Scottish harp.
Her music is rooted in the language of traditional Scottish music. Taken forward with the melodic and harmonic sense Catriona has evolved through her involvement in various music scenes. New harp techniques, new music, string section arrangements by Catriona and electroacoustic collaboration with Alistair MacDonald.
Catriona devised a harp that has been designed and made by Scottish harp makers "Starfish Designs". It has a unique tuning pattern, designed for use in contemporary folk music.