Chris Stout & Catriona McKay and Tempest
Alwinton Church
Alwinton Church (Postcode NE65 7BE) is situated about half a mile before the village of Alwinton, on the road from Harbottle to Alwinton, on the right after crossing the bridge over the River Coquet.
Saturday 11 July, 7.30pm
Catriona McKay (Scottish harp) is from Dundee on the east coast of Scotland and Chris Stout (Shetland fiddle) is from Fair Isle, one of the Shetland Islands. Catriona & Chris have their roots in Scottish traditional music, the starting point for them to develop and explore their own brand of new music. The result is a dynamic and adventurous sound that retains the identity of their traditions yet allows the music to connect freely with other musical styles.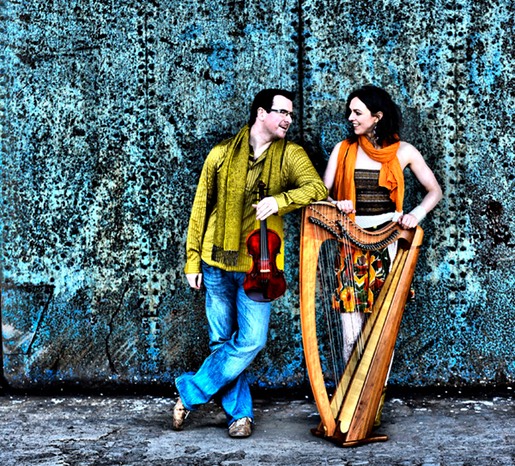 Helen Wilson - Holly Melia - Hannah Grayson
Tempest is an award winning flute trio founded at the Royal Northern College of Music in Manchester who regularly perform around the UK and internationally. Originally formed to stretch the boundaries in music and performance for flute trio, Tempest now covers a wide spectrum of music including new works and their own arrangements.
Their award successes include winning Royal Overseas League Chamber Music Competition 2013 and Second Prize in the 14th International Kuhlau Flute Competition 2013. They have also won the RNCM Contemporary Music Award 2012, the RNCM Ensemble of the Year Competition 2011, the RNCM Woodwind Chamber Music Competition and Trevor Wye Prize 2011. After auditions, they were selected to be artists for the Park Lane Group Concert Series 2013/14 and the Manchester Midday Concert Society 2013/14. In 2011 Tempest won the Nonclassical "Battle of the Bands" competition resulting in an album deal on the Nonclassical records label. Since then Tempest has been working on the album with Gabriel Prokofiev which will feature several new commissions.